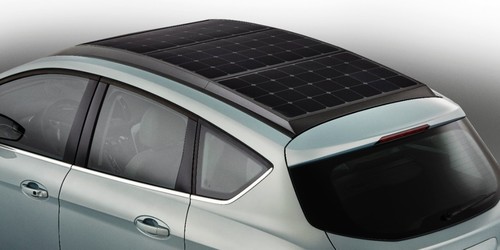 BBC News

Ford Is Making A Concept Car With Solar Panels For A Roof

Huffington Post

What do Superman and the Ford C-MAX Solar Energi concept car have in common? Both receive power from the sun.
Eric Roberts's insight:
Solar panels on car roofs a great idea but not a new idea

So, in my opinion this idea from Ford motor company is one of the biggest step forwards yet. Especially, in the quest for the electric cars! Enabling, them to cover more mileage.
Significantly, this car could be run on solar energy from Solar Panels . Even when the car is running about ! Consequently, the batteries will also be charged. Developments like this will be a big step in the right direction ! So, I can envisage all EV's and all electric cars will have this technology. Incorporated in the cars electric system. Aiding charging.
This is not the first time that solar panels have been used to power cars
So, I believe that it will be the first time that a major car manufacturer. Has incorporated solar panels onto an actual model.
Consequently, a guy called Ed Passerini ! Was probably the first man to invent the first solar powered car ! Way back in 1977. After building several smaller prototype cars. He eventually built the solar car known as Bluebird.
More recently in 1983 two Australian's, Hans Tholstrup and racing driver, Larry Perkins . Managed to drive a solar powered car from Perth to Sydney. Totaling 2566 miles a great achievement ! The vehicle was called the "Achiever". Equipped with a solar cell panel fitted to the roof. Hence,that charged 2 x 12 volt lead acid leisure batteries.
Batteries charged for use after dark
So the charged batteries were to be used for use when the Sun was behind clouds or even in darkness. Many of today's Solar Panels and solar energy equipment had not even been invented back then, so the electrics they used were pretty basic. They had an electric motor to drive the car with a basic type gearbox that could only have the gears changed when the vehicle was stopped. The acceleration was done by either using 24 volts or 12 volts, the 24 volt was the fastest option, depending on the amount of battery storage.
Other recent tries at utilizing solar energy were carried out by the larger auto companies such as Ford, using them in the headlights.
Eric Roberts
Hi I would like to introduce myself. Working in the Garage and tyre and Battery business now for 40 years. So. worked for a couple of national tyre companies before starting my first business. Of course, I now own a company here in the UK called Pellon Tyre and Auto-centre. Blogging about anything to do with cars and their related products. Naturally, that will help my business. We are members of Point-S and Trading Standards and are also a Unipart Car Care Centre.
See on www.huffingtonpost.com
https://www.pellonautocentre.com/wp-content/uploads/2017/10/michelin_concept_tyre_loofah-e1563515512894.png
400
720
Eric Roberts
https://www.pellonautocentre.com/wp-content/uploads/2015/06/Logo_PellonCleanTrans.png
Eric Roberts
2020-09-26 07:39:03
2020-09-26 07:39:03
Solar Panels to be fitted on the roof of this Ford Concept Car