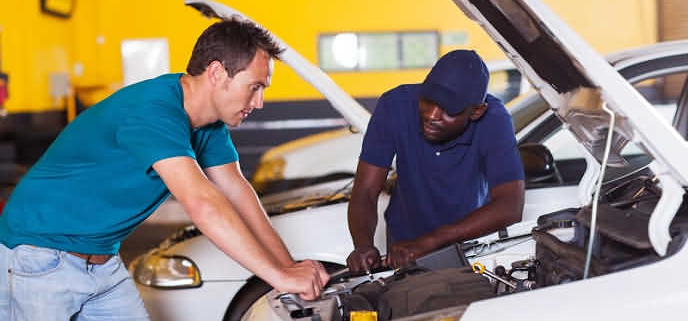 Ford Focus-Duel Mass Flywheel – Driver heard a noise when clutch pedal pressed?
Table of Contents
Ford Focus Duel Mass Flywheel, clicking noise?
Certainly! A dual mass flywheel, also known as a DMF, is a type of flywheel that is commonly found in modern vehicles, particularly automobiles that are powered by diesel engines or high-torque engines. Its position between the engine and the transmission makes it an important link between the two components of the vehicle.
In contrast to a single mass flywheel (SMF), also known as a simple solid disc that rotates in unison with the engine, a dual mass flywheel (DMF) is made up of two flywheels that are physically separated from one another by a number of springs and dampers.
The crankshaft of the engine is connected to one of the flywheels, while the input shaft of the transmission is connected to the other flywheel. The two flywheels are able to move independently of each other thanks to the springs and dampers, which contributes to a reduction in the amount of noise, vibration, and harshness (NVH) produced by the drivetrain.
When the engine and transmission rotate at different speeds, the springs and dampers in a DMF work by soaking up and releasing the energy that is created as a result of this difference. Because of this, the experience of driving is made more comfortable and less noisy, particularly at low speeds and when shifting gears.
However, DMFs are more difficult to construct, which makes them more expensive, and they are also susceptible to wear and tear over time. Failure of a Duel Mass Flywheel can result in a number of issues with the vehicle's ability to be driven, including vibrations, rattling noises, and other problems. The removal of the transmission is typically required in order to replace a DMF, which is a repair that can be both time consuming and expensive.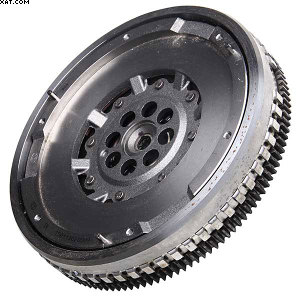 In a nutshell, a dual mass flywheel is a component
that, when installed in modern automobiles with high-torque engines, contributes to the reduction of both noise and vibration. Even though it makes for a more pleasant driving experience, replacing it may be more expensive than the installation of a single mass flywheel.
The driver of this Ford Focus presented his car to us. He explained that he could notice a slight change of noise in the sound of the engine followed by a sort of ticking noise?
When asked when the noise occurred he said that it was when started to press the clutch down, to about halfway. Then after the halfway point the noise clears up? The same happens when the clutch is released.
When the car engine is idling, or when you are just driving along, then there is no noise. Then when your foot is off the clutch (either in neutral or driving in gear) there is no noise.
He said that he noticed for the first time, about a month ago. Ryan my service manager thought straight away that the problems pointed to the clutch and perhaps the Ford Focus Duel Mass Flywheel.
The Ford Focus Duel Mass Flywheel is made of many small components and clicking or ticking sounds, point towards the DMF (duel mass flywheel). The sound was only slight and the noise was covered by the car radio.
Alex tackles Ford Focus clutch job !
At first we recommended that the guy should leave well alone and to see if anything else would develop. He agreed with us and went on his way.
We never saw the car again until a month later? This time the noise became a little louder.
Ryan still suspected the Ford Focus Duel Mass Flywheel as being the problem. We took the car in and split the gearbox from the Focus engine to inspect the DMF and clutch. The clutch release bearing and slave cylinder were examined and found to be OK.
Some reasons for the diagnosis of a problem with your Duel mass Flywheel are as follows:-
1) If you have a slipping clutch; if the cars revs become higher but cars speed does not increase, or it feels like you are riding the clutch when driving along or changing gear. Or sometimes you can smell the pungent smell of the overheated burning clutch.
2) Strange unfamiliar metallic noises (sounds like a rattling chain or bag of knife and forks being shook about). This noise will stop when the clutch is depressed then return of release.
3) If your dual mass flywheel has been wearing for a while then your starter motor may start to slip/spin, when you are starting the car.
The driver with the Ford Focus Duel Mass Flywheel problems came to us in good time. The DMF had started to break up and was replaced, along with a new clutch plate. So if you do hear these noises take it along to your local garage to be examined.
https://www.pellonautocentre.com/wp-content/uploads/2021/02/car-service-centre.jpg
458
688
Eric Roberts
https://www.pellonautocentre.com/wp-content/uploads/2021/05/Logo_Pellon.fw_.png
Eric Roberts
2023-04-12 07:40:11
2023-04-14 15:17:47
Ford Focus-Duel Mass Flywheel – Driver heard a noise when clutch pedal pressed?