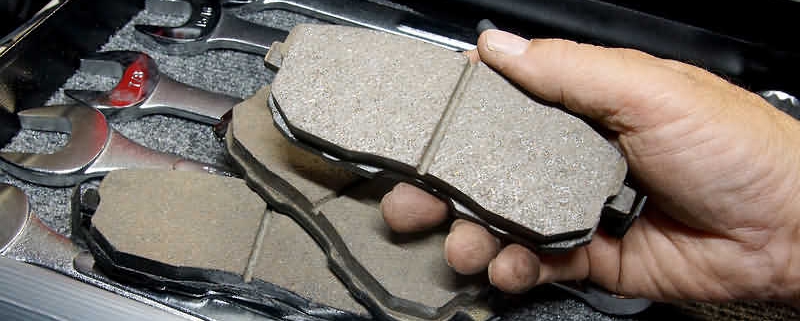 Failing Brakes-Lack Of Car Servicing Could lead To problems with your cars brakes ?
Failing Brakes
Many cars are now having a bad experience
Of driving your car along the road only to find that when you apply the Failing Brakes,
you hear a tremendous "grinding"noise problems
Of course winter is always a bad time for our customers with brake problems. Specifically, because drivers use their brakes much more often. Especially, if the weather turns wild. Snow and ice make drivers doubly aware of the driving conditions. Consequently, they use the brakes twice as much as they would in say dry sunny summer conditions.
Eventually the brake pads will wear away. In many cases the pads wear down to the extent of wearing out altogether thus causing Failing Brakes ! Frequently, only leaving the metal part of the pads in tack. Of course this is the time when the grinding noise can be first heard by the driver. So, causing panic as this is often accompanied by brake warning lights illuminating on the cab dashboard !
Drivers panic !
So, the noise comes from the metal part of the worn out pads grinding on the metal brake discs eventual causing Failing Brakes. Resulting in the horrific noise when the brakes are applied. Significantly, this happens many times and We are now finding that we are seen an increase in drivers calling into our Halifax garage with this problem. With with Failing Brakes that are rattling and banging. Many of our customers are lady drivers (about 60% we estimate).
Not being sexist but the lady drivers do appear to panic more when this bad brake experience happens. Finding out that when you apply the brakes. Then you can hear a tremendous "grinding"noise. As a result, coming from your car. This can be a harrowing and frightening experience. Especially, to a first time driver.
When this happens all the customer wants to do is stop their car. Of course and then, getting it to a garage as soon as possible. As I have siad earlier, these days as well as the noise, then a warning light will illuminate. Hence, on the dash-board. Making the experience twice as daunting.
Customers just want their vehicle putting right !
So, in really severe cases of total brake failure, then a recovery is often required. Drivers just dont want to drive their cars that are making such a terrible noise. So, the cars are just left with us to do whatever is needed to make their vehicles roadworthy again ! The cost of the repairs does not seem to be a problem. Because, this important part of the car and the brakes must be fixed at all cost.
Why let the brakes get to this stage ?
This is the bit that I don't understand ! I believe that the main reason for the customer grinding brake problem is a lack of car servicing. Thus allowing their cars to become beyond the stage of proper safety levels (when the pads are completely worn down and they become metal on metal with the Discs). Dangerously, this problem occurs mainly because the vehicle had not been serviced the year before.
Customers now lead very busy lives ! So, it is not surprising when we tell them that their car has not been serviced for over two years. I must admit that I am in this bracket ! Consequently, because of a missed service then parts that need replacing such as brake pads . So, are neglected and wear out causing the grinding problem. Customers do not usually miss servicing on purpose !
So, there was a time when our customers would miss a service for financial reasons. In recent years we have found that this has become less of a problem. Money is much easier to access, so important things such as servicing their car has become less of a problem.
Missing a service is false economy !
However a modern safe guard has become the annual MOT Test and servicing. Expressly, the modern way is to have a service when the vehicle is in for its annual MOT test. So, to help drivers, many garages like ourselves. Offer a service and MOT package that is in the financial reach of most card drivers. Of course, this package ensures that things that could be missed due to neglect can be spotted and put to rights.
Including the cars braking system. When the brake pads are not completely worn down then we can advise the car owners and they can be changed before the dreaded grinding noise emanates.
So, when the car is in fir a service/MOT, and we find that the Brake Pads are getting low. Then we report back to the client with an advisory. Of course with the permission of the car owner ! The parts will be changed on the service making the car safe again, and up to scratch. If the owner does not have their vehicle serviced and the Failing Brakes are neglected, then the problem of low pads will then be spread to the other parts, namely the brake discs.
Of course, other brake problems could also occur. Including, seized up brake calipers, or leaking brake cylinders and damaged ABS warning wires.
Failing Brakes

problems could have been avoided.
As an example to what I was saying earlier in the article! One lady customer brought her BMW Mini in to us with a Brakes problem. Closely examining the Mini we found that she required discs and pads on the front. Including a set of pads on the rear. The lady could not understand this ! Explaining that she we had only just serviced the car a couple of months previously.
Much surprised! We subsequently,checked the records on our computer system. She was horrified to find that the last service was carried out 18 months ago ! Time had flown by and she had missed her annual service completely. Needless to say that she apologised, paid her bill and went on her way. Of course ,we do send out reminders to our customers, but it had slipped her mind.
I do believe that motorists are becoming more aware and educated about the need for regular car servicing as a preventative measure to Failing Brakes. Especially before the dreaded grinding brake scenario occurs!
https://www.pellonautocentre.com/wp-content/uploads/2021/01/brakes-pads-only.jpg
396
800
Eric Roberts
https://www.pellonautocentre.com/wp-content/uploads/2021/05/Logo_Pellon.fw_.png
Eric Roberts
2023-08-17 07:39:19
2023-08-17 07:39:19
Failing Brakes-Lack Of Car Servicing Could lead To problems with your cars brakes ?