Tyre Pressure Tips
Tyre Pressure Tips-Start with your tyre pressures
The first important thing to do to look after your tyres is to have the correct pressures checked on a regular basis, I prefer to have them checked every week, but at least every two week is better than not at all.
Make sure that you have yours checked by a professional company, it is important that you fit the correct mix of, are their radials? Are they directional? Never mix different types on the same axle for example directional with non-directional, or asymmetric the wrong way round.
This is one of the problems with buying your tyres on the internet; you will not know which tyres are right or wrong until you come to have them fitted, it is a gamble that you may not want to take.
While you check your tyre pressures. So, you should test the tread depth; drivers should have 1.6 mm of tread across ¾ of the tread width from the centre out, once again your local tyre dealer will do this for you, or you can purchase a simple depth gauge from your local auto DIY store.
Tyre Pressure Tips
You should always look out for any damage to the tread and side walls, look for cuts and chunks missing out. If you are not sure to get some good advice.
Make sure that your wheels have been balanced; there is nothing worse than having a shaky steering wheel when driving on the motorway. If your tyres look to be wearing off on the edges, have your Car Wheel Alignment checked out, you may soon find out that your new tyres have worn out too quickly, so have your alignment checked out perhaps when having a service.
Look out for severe weather conditions such as snow in the forecast. If you are experiencing a severe winter, you may think about fitting proper Winter tyres for safety. Another one of my Tyre Pressure Tips regards overinflated tyres. If you are caught out in snow or ice do not skid too much, this will also damage them, I have witnessed a  tyre ripped apart from continuous skidding.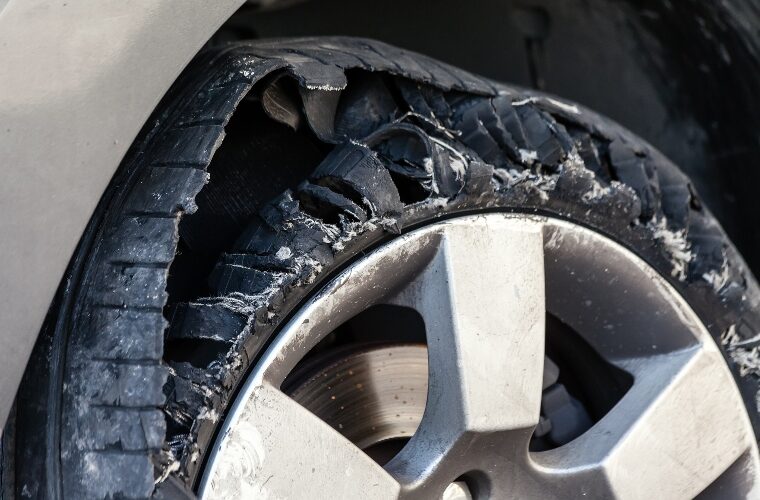 Tyre Pressure Tips
;  Check your spare tyre and wheel changing equipment?
Driving in a safe and efficient manner requires maintaining the appropriate pressure in the tyres. Tyres that are either underinflated or overinflated can result in a variety of issues, including a decrease in the vehicle's fuel efficiency, an increase in the rate at which the tyres wear out, and a decrease in the performance of the vehicle's steering and braking systems.
Tyres that are not inflated to the proper pressure can result in increased rolling resistance, which requires a greater amount of fuel to move the vehicle. This may lead to an increase in both the cost of fuel and the amount of carbon emissions produced.
One of my Tyre Pressure Tips is that have been inflated to an excessive level can also lead to a variety of issues, including a decrease in the vehicle's ability to steer and brake, as well as an acceleration of the wear rate. A harsher ride, which can be uncomfortable for passengers, is another side effect of having tyres that are inflated to their maximum levels.
Maintaining the appropriate pressure in the tyres is another crucial aspect of safe driving.
Another one of my Tyre Pressure Tips is that overinflated tyres can be more susceptible to punctures and may not provide adequate grip in wet or slippery conditions. Underinflated tyres can overheat and potentially lead to a blowout, while overinflated tyres can overheat and potentially lead to a blowout.
It is essential to check the pressure of the tyres on a regular basis and make any necessary adjustments in order to maintain the correct level of inflation in the tyres. This can be accomplished by making use of a tyre pressure gauge and adhering to the recommended tyre pressures that have been provided by the manufacturer of the vehicle. An important Tyre Pressure Tips is that the maintaining your tyres on a regular basis can help you save money on fuel, extend the life of your tyres, and make your vehicle safer to drive.
Tyre Pressure-Tyre Tips Check your spare. If you have got a car without a spare make sure you have enough emergency inflator liquid in your boot. Make sure you can change a wheel on your own, this may prove paramount in an emergency. Also, make sure that you have a jack and wheel brace that is in good condition when you use it.
Finally, if your car does not drive right or feels strange when cornering, it could be dodgy tyres, centres or even worse a steering problem so get them checked out.
https://www.pellonautocentre.com/wp-content/uploads/2020/12/run-flat-tyres-with-tpms-system.jpg
443
664
Eric Roberts
https://www.pellonautocentre.com/wp-content/uploads/2021/05/Logo_Pellon.fw_.png
Eric Roberts
2023-04-13 07:40:31
2023-04-14 09:15:35
Tyre Pressure Tips-start of by looking after your tyre pressures.