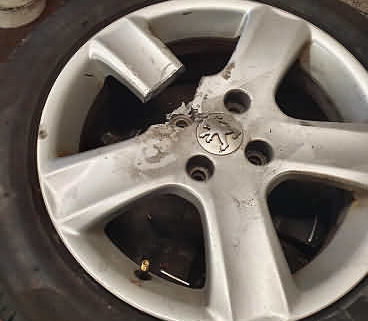 Damaged Alloy Wheels Repaired- This damage could have spread and shattered the wheel very lucky Driver ?
Damaged Alloy Wheels Repaired
Damaged Alloy Wheels Repaired
Relaxing. last week I was sat in my small office . Day dreaming and just looking out of the window. So. I noticed a breakdown recovery truck with a blue car on the back. I never thought more a do about it as we have these broken down cars brought into us all of the time, as most busy auto centres do.
About ten minutes later a member of my staff came in shouting for me to have a look at this wheel..The Damaged Alloy Wheel had come off the car that was brought in on the back of a transporter, a Ford Focus with a sport conversion, up-rated brakes and over size Cheap Alloy Wheels, you know the thing I mean this was a young guys car and a bit sporty.
However the guy had been going at speed and hit a massive pot hole in the road. The impact had caused a massive blow out to both his offside (drivers side) alloy wheel and completely
wrecked the tyres and caused severe damage to the alloy wheels. We can have small damages repaired by a local alloy wheel welding specialist. These are very often small cracks that appear on the rims and start to leak air from the wheel and tyre assembly. This is most common on some BMW models and some times we have known BMW replacing wheels free of charge. These small cracks can be repaired successfully, to the pleasure of many of our customers. It has been a bad time for broken and cracked alloy wheels recently due to the large increase of pot-holes on our roads, and so it is good to be able to give our customers the good news when they do not have to buy a new wheel, but we can have their damaged Refurbished Alloy Wheels repaired.

I had not seen alloy wheel so badly damaged ?
We were all amazed at the massive split in the Pothole Damaged Alloy Wheel that came off the front. Shockingly, have never seen one so bad. Splitting was almost all round the circumference of the wheel. If you look at the image bellow then you can see what I mean. Luckily for the customer we have just become a member of a buying group. Now here in the UK called MD . Fortunately, one of the suppliers we can deal with. Hence, sells TSW wheels Alloy Wheel and Tyre Packages. We were able to supply four new wheels along with two new General Tyres and the guy went on his way a happy driver.
Pellon Tyre and Auto-centre offer car and van servicing and repairs now including "Wheel Repairs" to all makes of vehicles. Also we sell General Tyres online from our website. Using the tyre selector and choosing your tyre size. Offering courtesy cars to local motorists who need to go to work. Leaving their car with us for work doing. Of course, we are also an official MOT testing station.
So, 80% of cars now have alloy wheels fitted to them! and as you know, every day thousands of these wheels are incurring minor damage. Of course, from kerbing, potholes. Causing stone chipping and lacquer discoloration. Predominantly, this damage stands out like a sore thumb. Especially on polished rims. Of course by offering this new service we were looking for a cost effective method. Of course to repair and bring the damaged alloy wheel(s) back to a showroom finish.
https://www.pellonautocentre.com/wp-content/uploads/2021/04/alloy-wheel-1.jpg
419
368
Eric Roberts
https://www.pellonautocentre.com/wp-content/uploads/2021/05/Logo_Pellon.fw_.png
Eric Roberts
2023-03-15 18:39:08
2023-03-15 18:39:08
Damaged Alloy Wheels Repaired- This damage could have spread and shattered the wheel very lucky Driver ?