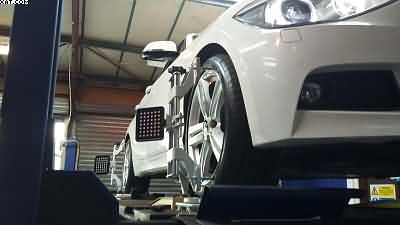 Wheel Alignment Check-Enjoy The Perfect Ride with Wheel Alignment & Balancing
Wheel Alignment Check
Pellon Tyres new Hofmann 4 wheel Alignment machine ask for a free Wheel Alignment Check

Importantly, you should always be mindful of your wheel alignment. The cost of wheel alignment is cheap if you consider the benefits it will give you.

Front end alignment does not take more than twenty minutes to accomplish with a computerized wheel alignment service. As a result here at Pellon Tyres in Halifax UK we are upgrading our Alignment machine.Hence to a new Hofmann 4 wheel alignment machine. Additionally, with a customers print out.

Whichever the case, having a misaligned front wheel can also be very dangerous. Thus, for many reasons. One-Is that you could lose control of the steering wheel. Secondly, is that it could lead to more serious problems. Of course, with the under chassis of your car.

So, you know when you are due for a front end alignment. Because, your steering wheel veers to the left or right when you are just driving on the road. Believe me you will know the felling when your car pulls to one side. This should not happen. It is very difficult to drive a car which has the steering misaligned. Because, you always have to keep a tight control on the steering wheel. Making sure you do not cause any accidents on the road due to the lack of vehicle control.

Aside from tyres being worn out faster. Of course, you are also wasting fuel . Because, the engine of your car exerts more energy and so works harder. Just to enable your car to run straight without pulling to one side. Of course, you are also using up a lot of your vehicles steering and hydraulic fluid. Everything has to work harder. Including the driver of the car.

Wheel Alignment Check could save you money?

Of course, you are also running a great risk by driving your car with misaligned tyres. Front end alignment does not take more than twenty minutes to accomplish. Hence, with a Hofmann computerised wheel alignment service. Because, it is more accurate. Measuring the precise alignment of all four wheels. Subsequently, this is much better than our old manual wheel alignment gauges.

The basic front end alignment cost is cheap, costing £34.90 for both wheels. A four wheel alignment price depends on the model and difficulty of the job in hand! Including, depending on whether or not your steering parts are seized up or not?. On top of the alignment cost. You can also include wheel balancing service. For an additional fee of around £10 a wheel. Naturally, it is important to have the wheels of your car aligned.

Another and more costly affect of having a car with misaligned wheels is your premature tyre wear. Because, if you continue running your car with misaligned wheels. Then your tyres will wear prematurely. Also the tyres will be worn out faster than the normal rate. The moment you notice a slight veering of the steering wheel either to the left or to the right. So you know your car needs front wheel alignment immediately.
Finally wheel alignment is more important than ever, cars are now fitted with large expensive tyres which can be prematurely damaged.
https://www.pellonautocentre.com/wp-content/uploads/2018/04/wheel-alignment-4.jpg
225
400
Eric Roberts
https://www.pellonautocentre.com/wp-content/uploads/2021/05/Logo_Pellon.fw_.png
Eric Roberts
2022-08-25 19:39:11
2022-08-25 19:39:11
Wheel Alignment Check-Enjoy The Perfect Ride with Wheel Alignment & Balancing