Unsafe Partworn Tyres
Tyre Review RMA Warning: Unsafe Partworn Tyres

On Sale Tyre Review The Rubber Manufacturers Association has taken a proactive stance regarding the sale of unsafe used tires to consumers, issuing a news release to consumer publications and newspapers…
Eric Roberts's insight:
Used tyres a Worldwide problem
Of course, the problem is of unscrupulous part worn tyre dealers selling Unsafe Partworn Tyres . Consequently,that are not fit for purpose ! So this problem will not go away! Unless strong enforcement is used backed by the law. This article from the "Tire Revue"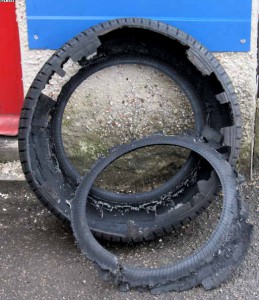 points out the problem facing cash strapped motorists all over the world .Including drivers here in the UK and the USA.
Authorities such as "Trading Standards" must keep on trying to stamp out the people who are selling these death traps. Here in the UK we even import the old tyres that German drivers discard and are taken off their cars.
What a stupid state of affairs !
It makes me feel sick! Subsequently, we also fit Unsafe Partworn Tyres taken from scrap yards. Of course these tyres from the end of life cars and there could be any amount of structural damage to the tyres without not knowing anything about it.
UK Motorists just fit these Unsafe Secondhand Tyres onto there cars ! As long as the price is right ! Of course, not knowing what dangers lurk inside them. Significantly, they could blow out at any time. So putting your families and other motorists life at risk. Good luck to the RMA in America.
So lets all think twice before buying these potential death traps just to save a few pounds ?
THE TYRE IN THE PICTURE WAS bought by a customer who asked us to fit it for them, including "THE NAIL"
See on www.tirereview.com
https://www.pellonautocentre.com/wp-content/uploads/2021/05/Logo_Pellon.fw_.png
0
0
Eric Roberts
https://www.pellonautocentre.com/wp-content/uploads/2021/05/Logo_Pellon.fw_.png
Eric Roberts
2023-09-29 07:40:25
2023-09-29 07:40:25
Unsafe Partworn Tyres-RMA Warning: Unsafe Used Tyres for Sale