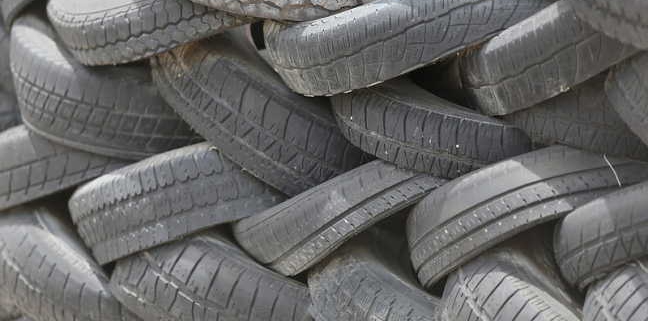 Second Hand Tyres Causing Problems-Don't Forget £575 fine and penalty points for defective tyres.
Second Hand Tyres
Old tyres like these are ending up as £20 Second Hand Tyres
£575 fine and penalty points for Second Hand Tyres

Impartial Reporter

District Judge Liam McNally said it was a bad case as Kalis "knew quite well" that his tyres were defective.
Eric Roberts's insight:
Bald Tyres
This article in the "Impartial Report".thus, proves that motorists do indeed get caught by the police . As a result, are prosecuted for having illegal part worn Tyres on their cars.
Although the police are not as abundant as they used to be. Then, it is no use risking a hefty fine. Such as the fine that this guy received. He would also of course have to buy another set of tyres . Hence, in some cases he could have also received a ban from driving . As each tyre is three points on your license.
As in the picture of the British Police. Often have roadside checks. Consequently, stopping motorists to check the cars documents . Also other important things. As a result we have often have drivers coming to us with what we call a " Pink slip". The slip has to be taken to any MOT station . Once the defect has been corrected. Then the car is deemed as OK.
Therefore, if say the car requires two tyres. Then we will check the car again. Once the tyres have been fitted . We then sign the slip to say that the work has been carried out. Moreover, the driver then returns to the police station .Showing the police that the defection has been rectified.Without any further prosecution.
Second Hand Tyres-Another very important problem that we are coming across
Consequently, there is the number of our regular customers that are getting caught out. hence by buying illegal Second Hand Tyres . These tyres are deemed as legal. Especially, if they are checked out and tested with a certified suppliers stamp . But this is not usually the case.
Only the other day (late October 2014). Then,we had two customers call into us . Thus, had recently bought Second Hand Tyres. Because they had some tyre problems in a near by town (Huddersfield). Both cases were in very similar circumstances. as a result, the first customer had come into us complaining . Because, his car was making banging noises. As a result, he thought it might be his brake discs and pads. When we removed the wheels . So to check out the brakes . Then we could not find anything wrong with the cars brakes. However , with the wheels removed from the car. We noticed a large egg shape . This went all round the tyres tread and sidewall area.
When we told him he said that this could not be so because he had just paid £40 at a tyre dealer in Huddersfield. He then went on to say that according to the guy who sold him the tyre, then the tyre was brand new. This had only been two weeks earlier?.
Second Hand Tyres
So the guy had paid £40 for a tyre that lasted only two weeks? crazy. We recommended that he took the tyre back to them for a refund, but as in many of these cases the guy felt
stupid for buying it in the first place and instead bought a proper new tyre from us for £59.90, he could not believe it for only just short of £20 he could buy a brand new tyre, wow.
For full information about your tyre safety and legal requirements take a look at the following web-site,,,www.tyresafe.org.
https://www.pellonautocentre.com/wp-content/uploads/2020/12/first-waste-tyres.jpg
431
648
Eric Roberts
https://www.pellonautocentre.com/wp-content/uploads/2021/05/Logo_Pellon.fw_.png
Eric Roberts
2023-09-20 07:41:47
2023-09-20 07:41:47
Second Hand Tyres Causing Problems-Don't Forget £575 fine and penalty points for defective tyres.