Dodgy MOT fraud crackdown- by DVSA- remains key focus for DVSA
Dodgy MOT fraud crackdown
Dodgy MOT fraud crackdown
As the owner of a UK MOT testing station. Then I just fail to understand the number of MOT stations that have been shut down for fraudulent activities. According to this attached article 143 testing stations. Of one type or another have had there testing facilities removed. Consequently not able to carry out any more MOT tests.
The public are now able to report stations that they feel were not truthful one way or another. Probably leading to more investigations. With the end result been a station loosing its MOT testing status. The mind boggles when you realise the importance of such a great system for testing vehicle safety here in the UK.
I believe that we have to be totally honest with both the DVSA and the public who bring their vehicles to us for a honest and reliable MOT test. We do hear of horror stories coming from customers with a long list of improper failures after a test on their cars.
Could things get worse !
What frightens me the fact that we are heading in for an economic downturn. So putting pressure on people to fail cars for the sake of more income. I have been in this industry for 50 years or so now and seen all this kind of thing before.
Larger companies with massive overheads will be putting even more pressure to increase their sales and profit margins. Recently a good friend of mine decided that he had enough of sales pressure from the large garage network that he worked for.
Encouraging the workers below him to report car faults that did not exist. He did not mention specific MOT jobs but you could not rule this out. Customers were told that things needed replacing when they were perfectly alright. We have all hear of this yet the companies keep on trading when the little guys get hit.
Finally as long as we keep up our good reputation for honesty when testing cars and also everyday servicing work then to hell with the rest. The we will not be involved in any Dodgy MOT fraud crackdown.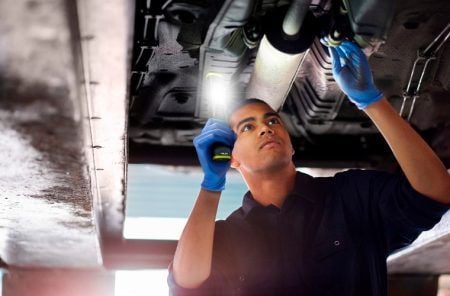 The DVSA has published its annual report, outlining its 2020-2021 activities. Some 40,490,000 MOT certificates were issued from 2021-22, up from 38,790,000 in the previous period. Following on from the DVSA's Beat the Rush campaign in 2020, the
https://www.pellonautocentre.com/wp-content/uploads/2021/03/canstockphoto88031629-scaled.jpg
1707
2560
Eric Roberts
https://www.pellonautocentre.com/wp-content/uploads/2021/05/Logo_Pellon.fw_.png
Eric Roberts
2023-04-15 19:39:42
2023-04-15 19:39:42
Dodgy MOT fraud crackdown- by DVSA- remains key focus for DVSA