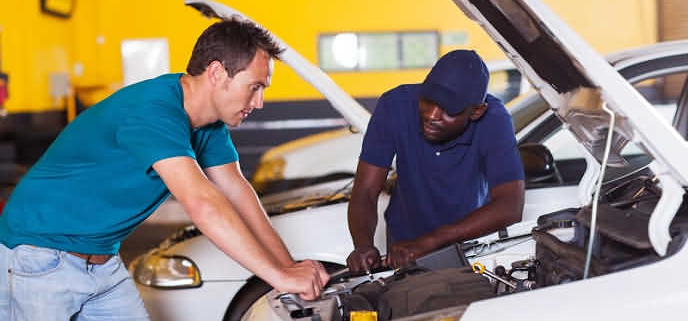 Car Servicing under Warranty-Do You Have to Have Your Servicing Done By the Main Dealer ?
Car Servicing under Warranty
Your car servicing can be carried out when the car is under the manufactures warranty
So, as a garage owner of long standing ! This is a question that I am always asked. Albeit too late to benefit my garage. Of course, when customers come to us for say a tyre fitting. Naturally, then they sometimes ask us what the price of a service would be for their car. Some customers then say that we can't do the car servicing ! Because the car is under the manufacturer's warranty. Subsequently, they must take their cars to the main dealer (franchise garage).
This ruling was brought out in the European Union (EU) in 2010 . As an update to previous legislation. Consequently, this is similar to the American version of "Right to repair act". It was brought up to date to prevent the car manufacturers from protectionism. Including, diverting the cars that they made to their franchise dealers. Thus not allowing any work to be passed onto the independent garage sector. While the vehicle was still under warranty. This also would have included Prestige Car Servicing. Giving the main dealer garages the monopoly for all the work. Whilst the car was still in the warranty period.
This was not acceptable to the EU.
So, as car repair bills were then accounting for 40% of running and owning a family auto. Unfortunately, the costs were going to rise in future years. In my opinion this legislation was not very well publicized. Because the general public do not know much about the fact that you can take your vehicle to a reputable independent garage. Finally, even if the car is still under the makers warranty scheme.
More reading…European Union Auto legislation
Car owners are still told that they must return their cars to the franchise dealers for servicing. Including out of warranty repair work. Including, such things as brake pad replacements and other wear and tear items. Tragically, or else if they don't it will affect their cars warranty. This is simply NOT TRUE?
A couple of my customers have told me recently that this is what the salesman had told them, when they had bought their new vehicle. One was a guy with a BMW, who told him that the car
had to be serviced by the BMW garage to keep the cars warranty. Another woman customer had bought an Audi TT from the local Audi franchise and they told her the same. I am not sure if it is a lack of knowledge by the car salesman, but I suspect that they must be trained to say these things.
The EU legislation states that all car makers
So, have to offer the least, a two year unlimited mileage warranty on all their cars. This starts from the day the car is first registered. These car sales people should know the law and I am sure the same thing is applicable in the USA, as I stated under their "right to repair laws". The two year minimum warranty ruling also applies if the car changes ownership within the warranty period.
The 2010 EU ruling along with previous legislation has been around for quite a while now and all franchise garages know that you cannot force a new car buyer to return the car for all its car servicing or brake work. Enabling the car to retain its warranty. The only stipulation is that the independent garage that is carrying out the service should carry out the work according to the cars manufacturing service manual and also use service parts of the same quality as the original equipment fitted the vehicle.
One that may be recommended by your family or friends. If possible look out for a garage that is one of the "good garage schemes". My garage is a member of one of these schemes and you may think that I am blowing my own trumpet.
But in my opinion ! Standards are high and customer care is a priority at most of these regulated garages. I must stress though, that if a part is found to be faulty . Then the franchise dealer has the right to repair the van under the terms of the car warranty. In my opinion this entirely fair and reasonable. Because it will the manufacturer who will be paying for the faulty parts being repaired. Consequently, they need to have proper procedures in place and a correct paper chase
This post does not cover warranties that are sold by a third party. Including, extended warranties offered by the garage that have sold the car. So, my advice is to be careful with that situation. Some of these other types of warranties that are not under the regulations covering the manufacturer's warranties may require you to have your car serviced at the dealership where the van was bought.
We recently had this type of problem with a car that had a worn out clutch.
The lady customer brought the car to us for a new clutch fitting. Unfortunately, and did not tell us that the car was still under warranty. She genuinely thought that she did not have to pay for the clutch fitting. Unknowingly, and that we could claim the money back from the car manufacturers. After a long argument and many phone calls to the main dealer she finally paid us for her clutch fitting and went away a very confused and disgruntled lady, never to be seen again.
This was a perfect case of the car owners, not knowing about their cars warranty procedures.
"Under EU law, you may invoke your guarantee at any dealer in the manufacturer's network, regardless of the EU country in which you bought the car. So if you buy your car in Germany and take it back with you to France. So, you go to a car dealership for that make of car close to your home to ask for a manufacturing fault to be remedied (within the guarantee period), rather than travelling back to Germany"…http://europa.eu/youreurope/citizens/vehicles/cars/faq/index_en.htm
https://www.pellonautocentre.com/wp-content/uploads/2021/02/car-service-centre.jpg
458
688
Eric Roberts
https://www.pellonautocentre.com/wp-content/uploads/2021/05/Logo_Pellon.fw_.png
Eric Roberts
2023-02-10 18:39:25
2023-02-10 18:39:25
Car Servicing under Warranty-Do You Have to Have Your Servicing Done By the Main Dealer ?