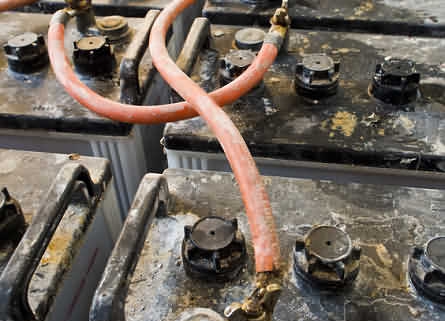 Solar Storage Batteries-Understanding our future storage Needs?
Solar Storage Batteries

When shopping for Solar Storage Batteries for a renewable energy (RE) system, it is important to choose a battery designed for deep-cycling, and one with a track re (Understand batteries to buy the right ones for your #RE system
Eric Roberts's insight:
Solar Storage Batteries using AGM Batteries
This attached article by Kalyan Jana. Senior applications engineer for Trojan Solar Storage Batteries renewable energy group. Thus is one of the most informative articles on the subject that I have ever
read.
The World of Solar Power Systems and Solar Storage Batteries. So, has now become a crazy mixed up mix of different peoples. Setting up different ways of storing their renewable energy. There are also many Universities all over the Planet looking for different types of batteries to use for storing the suns energy or the energy created by wind turbines.
Indeed it was only a few days ago that I wrote an article about Stamford University in the USA developing the nickel-iron Solar Storage Batteries, first invented by Thomas Edison and these batteries have been ear marked for the use of Solar Storage Batteries from the sun to store the large amounts of electricity that sun produces.
The future from Trojan batteries
Many countries in the world do not have access to a grid electric supply. This sort of thing is taken for granted in the western world. But for many
countries, such as parts of Africa. So, an electric supply is just a dream. In these days of the rapid growth in solar energy production,. Hence, the dream is starting to become a reality. It is difficult to believe that over 1.6 billion people do not have any mains electric power supply.
With the solar power revolution. It means that for the first time people will have the doors opened for better lighting. Including, better communications that will lead them to better education. Educated people can become nurses and business men. This will also mean that the people will have better school facilities. Of course, and more access to clean drinking and bathing water.
All this will be possible because of smart grid technology that we are developing in the western world. New renewable energy sources, such as solar panels and wind turbines and better Solar Storage Batteries systems that are developed by Trojan batteries are all playing a hand that is making the dream of electricity come true to some of these poorer nations.
We think that one of the best Types of Energy battery storage products at this present time is the Trojan AGM batteries for this purpose.
See on www.homepower.com
https://www.pellonautocentre.com/wp-content/uploads/2020/12/battery-storage-bank.jpg
466
445
Eric Roberts
https://www.pellonautocentre.com/wp-content/uploads/2021/05/Logo_Pellon.fw_.png
Eric Roberts
2022-09-29 07:40:28
2022-09-29 07:40:28
Solar Storage Batteries-Understanding our future storage Needs?