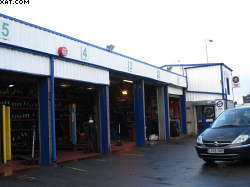 Electric cars-Dealers Are Really Scared Of Tesla Disrupting The

Servicing

Experience
Jalopnik
Service departments are important for car dealers and Auto Centres in general?
eric roberts's insight:
When Electric cars arrive will car servicing be a thing of the past
Well according to this article, it would be Electric cars from Tesla that get in their way. I have been having this discussion on LinkedIn forums for ages now, and most industry professionals, think the same way as me and that the future car mix will be the old and new Electric cars technology cars mixed.
America has now found themselves with oil that will last them many more years ahead, from the new technology  of "fracking".
This is where crude oils are forced out from between layers of shale rock that could not be previously  got at, using conventional mining methods.
This new oil find will in my opinion secure the use of gasoline(petrol) driven vehicles, all be it with much more efficient engines and probably diesel. Diesel can also be made from
organic plant materials, known as Bio fuels. which are already in use in today's diesel engined cars. We can also recycle old fuels including old oil to purify and use in these engines.
EV and electric cars are being developed at a very fast pace along with Hydrogen cell cars and no doubt there will be many more new inventions coming out of the Worlds universities as governments plough billions of dollars into new research and development.
All these different mixes of car technology will in the future mean a very diverse mix of cars on the roads of the World.
Car servicing will still be a thing of the future
I also think that the "right to repair bill" that is law in America and also very similar to the European Union laws that are designed to protect the replacement car servicing and
parts companies from new technologies that are created by the car manufacturing companies such as Tesla Electric cars in America and say BMW in Europe.
Eric Roberts
Hi I would like to introduce myself. I have worked in the Garage and tyre and Battery business now for 40 years. I have worked for a couple for national tyre companies in my younger days, before starting my first business. I now own a garage and MOT testing centre, here in the UK called Pellon Tyre and Auto-centre, and I am a keen blogger about anything to do with cars and their related products that will help my business. We are members of Point-S and Motor-Codes and are also a Unipart Car Care Centre and of course Tyre-safe.
See on jalopnik.com
https://www.pellonautocentre.com/wp-content/uploads/2015/06/Logo_PellonCleanTrans.png
0
0
Eric
https://www.pellonautocentre.com/wp-content/uploads/2015/06/Logo_PellonCleanTrans.png
Eric
2019-08-28 05:20:03
2019-08-28 05:20:03
Electric cars-Are Car dealers Really Scared Of Tesla Disrupting Car Servicing-