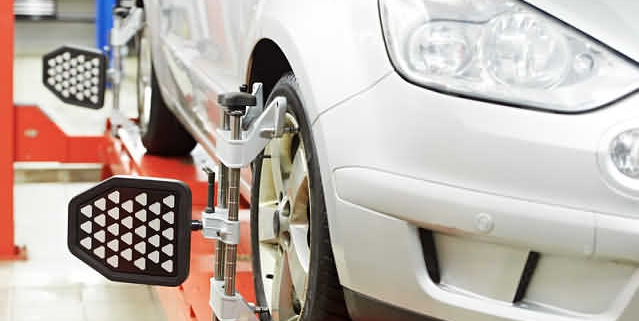 Four Wheel Alignment Halifax+Three reasons why wheel alignment is in so much demand
Four Wheel Alignment Halifax
Four Wheel Alignment Halifax
With modern steering and braking, becoming more accurate. Then wheel alignment is becoming more and more crucial. Hence, for the correct handling of your car.
As a result, it takes only a small misalignment to create problems with your vehicle. Which is why proper four wheel alignment should be carried out on your car. Simply put, all of combined components of your steering mechanism that help your vehicle to keep in a straight line are only corrected by having a wheel alignment.
Why is Four wheel alignment Halifax important?
Improper wheel alignment can effect driving performance as well as cost you money. Total 4 wheel alignment sets all four wheels positioned straight ahead. Including your steering wheel. The steering wheel gives you the first sign of an out of aligned steering geometry. The first sign to the customer, is that the car pulls to the left or the right.
Four Wheel Alignment Halifax
Whilst driving, your vehicles steering can also have a feeling of looseness or wandering. All of these signs can be corrected with a total alignment check. When corrected then your steering geometry will be corrected to the car manufacturers specifications. Of course, when the alignment is corrected then your will feel good again. Steering correctly and pulling to the left or right.
Another of the signs of wheel misalignment is uneven or excessive tyre wear. Therefore, if your vehicle is not aligned properly, your tyres can show premature wear. Usually on the inside or outside of your tyres tread area. This is because your car is not driving in a correct straight line. Hence, your tyres are sort of being dragged against their will. Thus, causing to wear off on the tread edges.
So, by having your vehicle aligned properly. It corrects any rolling resistance that affect your tyres. Another, fact worth looking at is that when your wheels are out of alignment.Then the tyres are causing a resistance between the car and the road. Because of the dragging affect. Believe it or not this means that your car engine is doing extra work to push the car along. This extra work then increases the amount of fuel that the car needs.
Having your cars wheel alignment correctly set up will help you drive more safely. Of course, you will not be consistently battling against your steering wheel to keep the car in a straight line.
Four Wheel Alignment Halifax- recommended
Simply put, your front wheels "steer" or drive the vehicle while the rear wheels "direct" the vehicle. Four-wheel alignment solves handling problems by referencing all four wheels to a common center line. As a result of say an accident in the car then it is more likely or not that the cars alignment will need correcting. Also hitting one of our millions of potholes will knock out your alignment.
It takes only a small misalignment to create problems with your vehicle, which is why proper wheel alignment is important. Simply put, all of components that make your vehicle go straight are called alignment. As I have said a sizable pothole can bump your suspension out. Subsequently, of the precisely calculated set of measurements. Required to that dictate proper wheel alignment.
When you have new tyres fitted then spend a little more to make sure that the alignment on your car is correct. This way you will enjoy trouble free driving. Without battling against your cars steering wheel.
Eric Roberts

https://www.pellonautocentre.com/wp-content/uploads/2020/12/wheel-alignment-1.jpg
426
639
Eric Roberts
https://www.pellonautocentre.com/wp-content/uploads/2021/05/Logo_Pellon.fw_.png
Eric Roberts
2023-10-11 19:39:19
2023-10-11 19:39:19
Four Wheel Alignment Halifax+Three reasons why wheel alignment is in so much demand