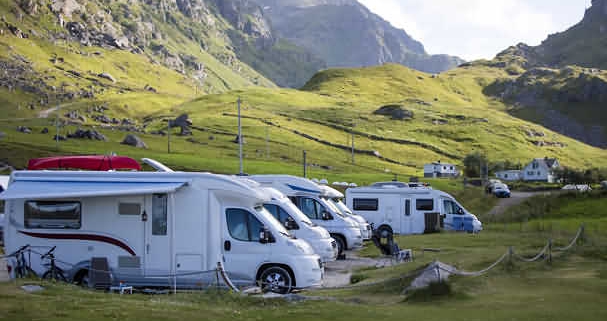 Caravan Tyre Pressures-Why making sure caravan tyres are inflated is very important
Caravan Tyre Pressures

It advises vehicle owners to check the Caravan Tyre Pressures with an accurate pressure gauge before every journey and if possible with cold tyres.
Eric Roberts's insight:
This rig is a good example for caravan owners to check their Caravan Tyre Pressures at regular times.
Importantly, you should increase and decrease your caravan tyre pressures before and after every trip. Significantly, it is very important to do this before say your holidays. Of course, when the caravan may be fully loaded. So, then you must lower the caravan tyre pressures. Consequently, when you return and unload the weight.
So, we have all seen many caravan rigs travelling down the motorway swaying from side to side. Because the main reason is the tyres are under inflated. Often causes accidents ! So please check and correct your caravan tyre pressures and fit a TPMS (tyre pressure monitoring system) if possible and be safer on the roads. A brilliant web site to visit for advice is...www.tyresafe.org
Continental tyres are releasing a Tyre Pressure Check system which will help to sustain the length of a tyre's life-cycle. At the moment it is being tested at the port logistics and other goods handling locations, but is expected to be used in applications such as caravans where slow and continuous loss of pressures are one of the most common causes of tyre punctures.
"Regular maintenance checks on the caravan tyre pressures are time-consuming and cost-intensive, and therefore often neglected – with
serious consequences," said Dr Michael Maertens, managing director.
The new TPMS system can be fitted on almost all types of vehicles that are fitted with pneumatic tyres from all of the manufacturers.
In contrast to comparable systems, Conti-Pressure-Check system is located inside the tyre, where the pressure and temperature are monitored all the time by a sensor.
All the data that is received via the sensor is sent by blue -tooth to a mounted central receiver. This receiver will processes the information and then sends it directly to the display in the driver's cab. In my opinion this would be a perfect system for a towing vehicle.
Such as a caravan or a trailer. Significantly the tyre pressures that may fluctuate between the actual caravan tyre pressures. Of course, will show the driver immediately when to inflate the tyres correct pressure. Consequently, this type of monitoring means the risks of blowout accidents are reduced. reducing the site of a crashed caravan torn to pieces. Hence turned on its back on the side of the highway. Ruining the peoples holidays.
A Continental CST spokesman says
So, that making sure of the right caravan tyre pressures not only extends the tyre's life and makes it safer, it also ensures that the vehicle has lower energy consumption ,but this will mean a better thing for the environment, since CO2 emissions will be cut.
See on www.etyres.co.uk
https://www.pellonautocentre.com/wp-content/uploads/2021/03/motorhomes-posts.jpg
405
607
Eric Roberts
https://www.pellonautocentre.com/wp-content/uploads/2021/05/Logo_Pellon.fw_.png
Eric Roberts
2023-02-06 06:40:16
2023-02-06 06:40:16
Caravan Tyre Pressures-Why making sure caravan tyres are inflated is very important