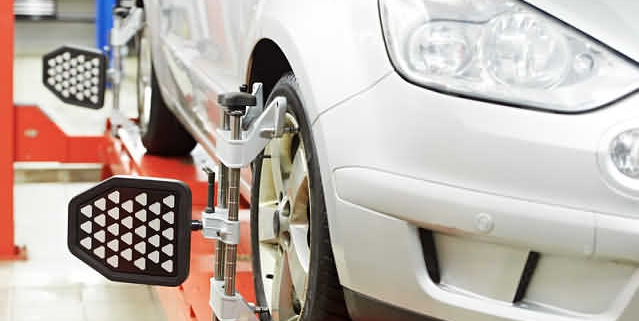 Wheel Alignment-Toeing Out-Tyre wear-Toe in and Toe out cause irregular tyre wear
Wheel Alignment-Toeing Out
Wheel Alignment-Toeing Out; settings that are crucial to your tyre wear
When having your wheels aligned. (usually after having new tyres fitted). It is important to remember. That the most critical setting is called the "Toe". If your wheel alignment is out from the correct setting. Thus, by as little as 1/32 of an inch. As a result, then each tyre on the axle will scrub 3 1/2 feet sideways for every mile driven on. Hence, causing your tyres to wear out prematurely. This makes Laser Wheel Alignment paramount and a money saver.
The "toe" in or out. Accordingly, determines the way that the tyres will operate. As a result, in relationship to the centre line of the vehicle. When the toe is not straight and is pointing in or out determines the way your tyre will wear. For example, if your wheels were "toeing out" then your tyres would wear on the inside if they were "toeing in "then your tyres would wear on the outside. As the car drives along the road, a rear wheel drive car pushes the front tyres and the fact that the toe is out caused resistance in a rearward movement of the suspension arms against the bearings.
Front wheel drive cars pull the vehicle along resulting in a forward movement of the of the suspension arm against the bearings, for rear wheel drive cars a positive toe is used to correct the suspension movement, and for front wheel drive cars a negative toe is used.
Wheel Alignment-Toeing Out can alter the vehicle's handling, increasing the toe-in will reduce oversteer and adjusting the cars Wheel Alignment-Toeing Out will reduce understeer, by doing this it will cause adverse tyre wear, although the vehicle will have better steering and handling. It is always better to adjust the settings as recommended by the car manufacturers handbook.
Wheel Alignment-Toeing Out
Before you adjust the toe outside of the manufacturers" recommended specs" to give the vehicle better handling beware that the toe settings affect the tyre wear. The toe out on our wheel alignment machine is measured on the turn plates. The wheel alignment machines take the readings, and they are measured by a laser beam and reflected onto the display screen. Our wheel alignment machine will give a reading for inside and outside wheel this reading is in degrees. When the wheels are straight ahead, the readings should be at zero.
The steering wheel should be in a straight position and locked into place before the wheel alignment adjustment is made.
Toe out angles are registered by the angle of the Power Steering this allows the inside wheel to turn at a sharper angle compared to the outside wheel. Steering arms are part of the steering knuckle or the ball joints and are not adjustable. Problems with toe out are often due to a damaged steering arm and must be replaced. Of course out of alignment means that you will have premature tyre wear!
An excellent website that explains Wheel Alignment-Toeing Out and associated different parts is…http://www.anewtoronto.com/wheel%20alignment.html
https://www.pellonautocentre.com/wp-content/uploads/2020/12/wheel-alignment-1.jpg
426
639
Eric Roberts
https://www.pellonautocentre.com/wp-content/uploads/2021/05/Logo_Pellon.fw_.png
Eric Roberts
2023-07-15 19:40:15
2023-07-15 19:40:15
Wheel Alignment-Toeing Out-Tyre wear-Toe in and Toe out cause irregular tyre wear