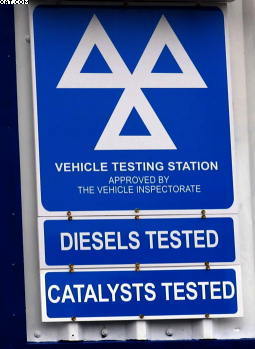 Millions of UK motorists are clueless about the legal requirement for MOT test, insurance and road tax (Mot's only cover approx 20% of your car being checked but servicing covers approx 70% as i was told when i last…
eric Roberts' insight:
As the owner of an MOT test station
I can believe these figures from the excellent Auto express magazine. This article makes interesting reading and state that 10% of UK motorists, car owners do not know that the MOT test is compulsory on cars that are after three years old.
The British government are computerising the whole system of car insuring and road tax along with the DVLA MOT Rules. In my opinion, they would be better off aligning the three
MOT test sign to look out for
together so that you could not have one without the other. At the moment, they are not aligned and you could have a car insured without an MOT test. In my opinion, this will be the Governments aim as at the end of this year the road tax disc will be abolished and the system will go online and make it easier for the UK motorists, the List of New MOT Rules and  details will probably have to be entered along with the insurance details, thus tightening up on the whole system which is at the moment flawed.
Eric Roberts
Hi, I would like to introduce myself. I have worked in the Garage and tyre and Battery business now for 40 years. I have worked for a couple of national tyre companies in my younger days, before starting my first business. I now own a company here in the UK called Pellon Tyre and Auto-centre, and I am a keen blogger about anything to do with cars and their related products that will help my business. We are members of Point-S and Motor-Codes and are also a Unipart Car Care Centre and, of course, Tyre-safe.
See on www.autoexpress.co.uk
https://www.pellonautocentre.com/wp-content/uploads/2015/06/Logo_PellonCleanTrans.png
0
0
Eric
https://www.pellonautocentre.com/wp-content/uploads/2015/06/Logo_PellonCleanTrans.png
Eric
2018-02-01 17:59:16
2018-02-01 17:59:16
UK motorists-1 in 10 think the MOT test is Only an OPTION?