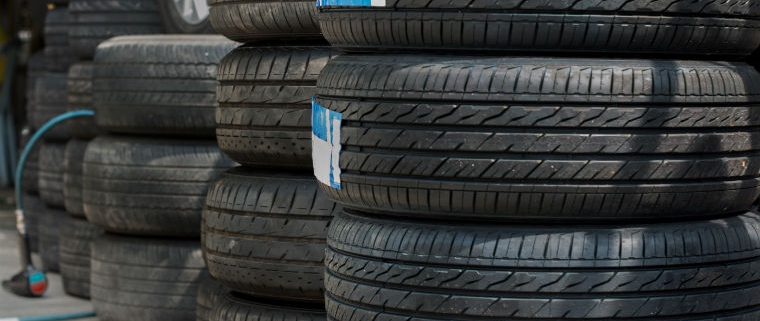 CAR TYRES-technical developments to create a Greener tyre.
Man made car tyres develop and change over the years.
So the tyres that were made say thirty years ago would not be suitable for today's cars. The tyre has developed into part of the evolution of greener cars, especially in recent times when vehicle emissions have become a very important part of new car development.
Tyre companies are trying all sorts of new techniques. To develop car tyres that will give a better "rolling resistance". Better rolling resistance makes it easier for a car to move forward . Whilst at the same time enabling the car to give a smooth ride. Sticking to the road when cornering and in bad weather conditions.
Tyre companies are using new and much lighter materials.
Including new materials that go into the compounds. Ultimately, that make the materials that are used for the outer layers of the car tyres. Hence, for making the sidewalls and tread area. One of the main products used is still latex of course. But tyres companies are now trying other materials. So, to try lesson the use of petrol-chemicals derived from oil.
One of these leading the charge is Yokohama tyres. Yokohama are experimenting with many materials. Importantly, one of the more successful ones has been "orange peel oil". Another tyre company that are trying new materials are Goodyear tyres. Goodyear has teamed up with a biotechnology company called DuPont. The two companies are working together to produce molecules to try to match the molecules that are found in tyre compounds. Rubber is a molecule! So by replicating similar molecules from sugar molecules they will be able to manufacture a product. Of course, that could be used to make tyre with and replace the dependency of latex. The natural material that tyres are made of at the moment. For more reading… http://www.acs.org/content/acs/en/education/resources/highschool/chemmatters/news/making-tires-green.html
Continental tyres are also one of the Worlds car tyres development innovators.
Over the years they have formed what they call their "green kitchen" to enable them to develop more environmentally friendly compounds, by replacing the more dangerous chemicals used in tyre making with new more eco-friendly products, similar to what Goodyear and other tyre companies are experimenting with. More information…http://www.continental-corporation.com/www/csr_com_en/themes/news/reifenmischung_en.html
Michelin Tyres UK are going down the same road. Michelin have always been at the front of car tyres development, ever since the invention of the "steel belted radial" and are now looking at all possible ways of future tyre development, including the use of old tyres…
"Terry Getty's, Michelin's research and development director stated that the tyre giant's innovation strategy continues to focus on exploiting raw materials to the maximum. He further said that TREC is a perfect illustration of eco-design and will help them creating latest high-performance tyres using high-quality raw materials derived from old car tyres".
This includes Michelin's latest tyre, which will not lose any grip all the way down to the tyre tread wear bars, due to the different compound depths within the tyres.
Now more important to switch your Michelin tyres round
Tyre rotation has become just as important as ever, because of the new developments and the need gain every bit of wear that you can out of your tyres. In my opinion there is also a need to match the tyres that are fitted to the car, especially if your car has the latest tyre specs that have been developed between the car and the tyre manufacturers.
We are pleasantly surprised though, how many of our customers do indeed practice this now. They are up to date with the fact that car tyres from different tyre manufacturers are now different and that they should be matched up for a better performance, that will give the car the same handling qualities when braking and cornering, in any type of weather conditions.
https://www.pellonautocentre.com/wp-content/uploads/2021/04/bigstock-New-And-Used-Car-Tyres-Shown-A-2461482761.jpg
500
760
Eric Roberts
https://www.pellonautocentre.com/wp-content/uploads/2021/05/Logo_Pellon.fw_.png
Eric Roberts
2023-05-07 07:39:54
2023-05-07 07:39:54
CAR TYRES-technical developments to create a Greener tyre.