Michelin EverGrip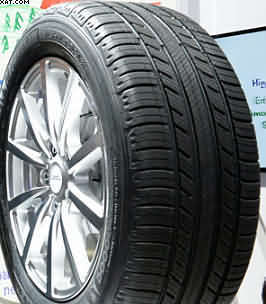 We know that wine gets better with age, but tyres? Well, that's what Michelin tyres promises. The French company claims to have developed a new technology called Michelin EverGrip that allows tires to not only maintain, but also improve …
eric roberts's insight:
Michelin tyres that grip better when they wear down.
This new tyre from Michelin Tyres UK, ( who are no doubt in my mind a great innovative tyre company and have always been at the forefront of tyre development over the years),will be called the Michelin EverGrip, because that's what the tyre will do. Normally as tyres wear down they eventually become bald, without any tread left. In motor racing bald tyres or slicks as they are known are used on dry weather tracks because of their ability to grip better and hold the road better, but once they are subjected to any bad weather ,even a rain shower they become useless and slide all over the place.
Michelin EverGrip
The new Michelin EverGrip work the opposite way. The sipes or rain grooves get bigger as the tyres wear down and also have another set of grooves that can only be seen when the tread wears down to a certain thickness, these are on the shoulder of the tyres. The compound of the Michelin EverGrip tyres is also made of different products and not just petro-chemical based. The new products used are in fact sunflower oil and different silica's. This is also in line with Yokohama tyres who now use orange oil as part of their compound materials and is a general trend of tyre companies to look for more natural and greener products to reduce the reliance of using petro-chemical products when manufacturing the tyres.
The new Michelin EverGrip will be available to buy in the USA after April and will be available in 32 popular sizes. The rest of the World should see this new tyre shortly afterword's.

Eric Roberts
Hi I would like to introduce myself. Working in the Garage and tyre and Battery business now for 40 years. So. worked for a couple of national tyre companies before starting my first business. Of course, I now own a company here in the UK called Pellon Tyre and Auto-centre. Blogging about anything to do with cars and their related products. Naturally, that will help my business. We are members of Point-S and MotorCodes and are also a Unipart Car Care Centre.
See on www.carscoops.com
https://www.pellonautocentre.com/wp-content/uploads/2015/06/Logo_PellonCleanTrans.png
0
0
Eric
https://www.pellonautocentre.com/wp-content/uploads/2015/06/Logo_PellonCleanTrans.png
Eric
2019-07-26 05:19:47
2020-03-19 06:07:53
Michelin EverGrip-Debuts New Tyres that Improve w... - Carscoops