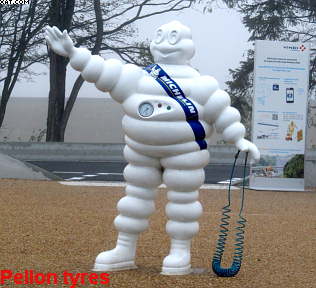 Michelin Star-Not tyres this time-but Michelin Restaurants and their Star System.
A few months ago I decided to look into the history of the Michelin star rating system for restaurants.
I found it fascinating. Hence, how the whole thing started. From the desire to help the early motorists to secure a good place to eat on their travels. To today's
the sophisticated way that Michelin award recognition to the best eating places all over the world.
I got it into my head that I must visit such a place to see what the difference is. My wife Michelle and I make sure that we go out at least once a week together and preferably on our own. I must admit that I prefer good Italian food, but now later on in life can take in an Indian meal. Eating out is a good time to reflect on the week gone by and talk about our garage business because we have a large grown up family, it is a real time have a bit of one on one conversation together.
However back to Michelin star?
Michelle's birthday is on the 17th of December. It becomes increasingly difficult to buy something so near Christmas. In recent years I have treated her to a concert and a hotel stopover (which we both love doing). This year I thought about the Michelin star, and looked up about the Star Inn in a village near Helmsley, in North Yorkshire.
The Star is on the main street of a picturesque village called Harrome, about three miles from Helmsley. I looked it up online and discovered that the Star also
Does overnight accommodation. This also included a taster evening the first night, and because we decided to take the two-night deal the second night included a choice from the a la carte menu.
Did we arrive on wet, misty December day? The rooms were all individually set out. Hence, and were all decorated in a countryside style.
This was to be the first time that I had visited a Michelin star restaurant. I could not wait. Thus, the building itself dates back to the fourteenth century. As a result and from the outside looks small with a beautiful thatched roof. The pub part of the star is like stepping back in time and is one of the best pub's I have ever visited.
I started to see that this is what every business should be run like? All the staff were very kind and helpful. The most important thing to me though was the staff's knowledge about the food, the wine and their understanding of the business and the history.
Michelin Star
This is what dealing with customers, and the public is all about. The Star had hundreds of small thoughtful ideas to make the public's stay a better experience.
This is what running any business (even a garage) was all about, little touches that are not expensive to implicate, but make a huge difference to the public's experience, when they visit your tyre shop or garage.
The food was out of this world, and the wines we tasted were all part of the experience, I sort of thought they would be because that's what a Michelin star is all about.
The thing I did not expect was the total business experience? You could compare this with your business experience and procedures, to improve the way that we treat our garage customers and add those little extra touches that make a world of difference, that can also give you a better bottom line.
I must congratulate the Star Inn for opening my eyes. Especially, to the way that a business should be run. Especially a company that deals with the public. So we all can add those little touches that make a difference. hence, to the visitor experience. I like to think that I run my garage and tyre business in a similar fashion. But it gave me a whole new enthusiasm and insight. For this reason, into make better profit margins. By not thinking cheap all the time.
I would like to end by also thanking Michelin for introducing me to the Star Inn; we have decided to make a visit there an annual pilgrimage near my wife's birthday. I would recommend any business owner to visit and see how a company that deals with the public should be run.
More Information…http://www.thestaratharome.co.uk/
https://www.pellonautocentre.com/wp-content/uploads/2015/04/michelin-man-air-line.jpg
288
316
Eric Roberts
https://www.pellonautocentre.com/wp-content/uploads/2021/05/Logo_Pellon.fw_.png
Eric Roberts
2023-06-14 07:39:27
2023-06-14 07:39:27
Michelin Star-Not tyres this time-but Michelin Restaurants and their Star System.