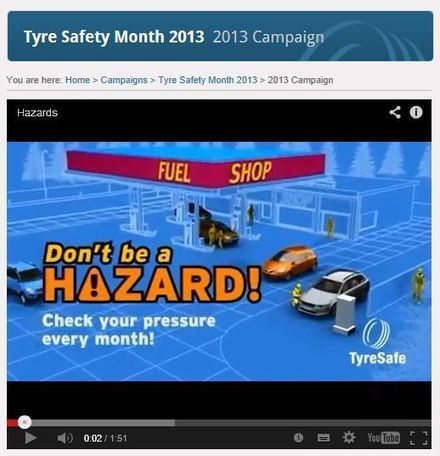 New Tyre Safety Video in animation released Marking the halfway point of its 2013 Tyre Safety Month campaign, TyreSafe has launched the latest in its series of animated videos. Featuring the crash test dummy family of r

oad safety

 …
eric roberts's insight:
Tyre safety will go from strength to strength



I must admit I find it very refreshing to see the good work that Tyresafe.org  is contributing to road safety. I joined Tyresafe because I felt that the normal tyre depot owner had nowhere else to go to help in the quest for safer tyres and safer roads.
In the past I have joined other organisations such as the NTDA London (National Tyre Distributors Association) but found myself very disillusioned by everything else that was going on other than road safety.
When I was a member and went to a couple of meetings ,I found myself listening to people talking about golf tournaments and organising a day out at Redcar races, but not very much about tyres or tyre safety. It was not long before I resigned and left them to their own devises.
I then learned about Tyresafe.org and was impressed with their commitment to road safety and tyre things in general, like this Tyre Safety Video . So I decided to join and soon became a member. I have been impressed ever since with their drive and enthusiasm towards the tyre industry and to tyre safety, this is the type of organisation that I am pleased to be a part of.
Indeed Tyresafe are the brains behind this Tyre Safety Video
Many organisations are behind this Tyre Safety Video including the Police and Local councils. I have even seen the Motorway road signs telling drivers to have safe tyres, a great step forward in my opinion.
Eric Roberts member of Tyresafe.org
Eric Roberts
Hi I would like to introduce myself. I have worked in the Garage and tyre and Battery business now for 40 years. I have worked for a couple for national tyre companies in my younger days, before starting my first business. I now own a garage and MOT testing centre, here in the UK called Pellon Tyre and Auto-centre, and I am a keen blogger about anything to do with cars and their related products that will help my business. We are members of Point-S and Motor-Codes and are also a Unipart Car Care Centre and of course Tyre-safe.
See on www.tyrepress.com
https://www.pellonautocentre.com/wp-content/uploads/2015/06/Logo_PellonCleanTrans.png
0
0
Eric
https://www.pellonautocentre.com/wp-content/uploads/2015/06/Logo_PellonCleanTrans.png
Eric
2019-06-11 17:20:01
2019-06-11 17:20:01
Tyre Safety Video-New TyreSafe animation released : Tyrepress