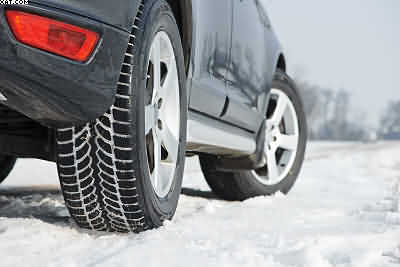 Your winter safety tyres-Making sure your ready for your winter tyres – KSHB-Eric Roberts
Your winter safety tyres
Your winter tyres, will help you drive like this in the coming winter
KSHB

Tips from Toby: Making sure Your winter safety tyres are ready for winter

KSHB

"The control of the vehicle, you can imagine having three tires at the proper pressure and one that is say 10 pounds or even 15 too low.
Eric Roberts's insight:
Your winter tyres Tips from Eric
Winter is now on its way here in the Northern hemisphere, and if you want to get to work on time and impress your boss, it is time to fit your winter tyres.
Your winter tyres do not only give your car stability in snow, but they also protect you by gripping the road better in very wet conditions and prevent your car from aquaplaning. This is when a film of water forms between the road surface and your tyres, causing your car to lose grip with the road surface.
We always fit Best Winter Tyres to our vehicles and I can guarantee that they make you feel much safer in snow and bad inclement weather, and that's because they are much safer than summer ones.
Summer tyre lose their suppleness when the temperature drops below 7 degrees C, whereas Your winter tyres contain silica in the compound, which helps them to be more flexible
and aid gripping to the road surface in cold weather. A couple of brands that i would recommend, would be a budget tyre brand called Jinyu and a mid-range tyre brand called Nokian Tyres UK, both these brands have been tested and proven by us here in Halifax UK, and in many other Winter Tyres Test Results.
Of course Your winter safety tyres are not just designed for coping with ice and snow! So, I must confess that I am a winter tyre freque. Whatever vehicle that I drive then I fit winter tyres. Confidently, these tyres are capable of coping with all types of weather. Including the very heavy rain storms that we are having in recent years.
Importantly, winter tyres will get rid of the worse rain storms. Confidently, giving you control of your vehicle when other could be suffering. Safety is the word and winter tyres certainly give you and your family better safety when driving in these conditions!
See on www.kshb.com
https://www.pellonautocentre.com/wp-content/uploads/2020/11/first-winter-tyres.jpg
267
400
Eric Roberts
https://www.pellonautocentre.com/wp-content/uploads/2021/05/Logo_Pellon.fw_.png
Eric Roberts
2023-03-21 06:40:09
2023-03-21 06:40:09
Your winter safety tyres-Making sure your ready for your winter tyres – KSHB-Eric Roberts