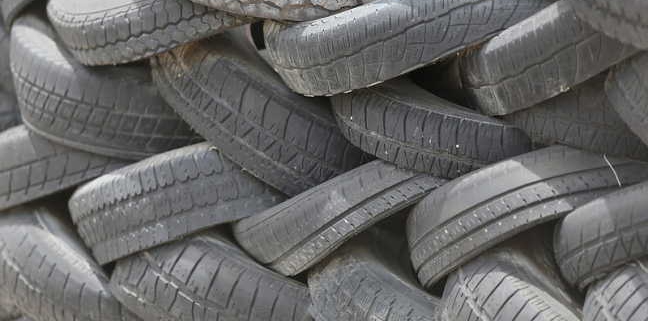 Waste car Tyres are being looked at by the EU Investigating Covering Roads With … Car Tyre Rubber
The European Union is spending €4.5 million on an experiment to turn Waste car tyres into an elastic material that can be put on road surfaces – particularly motorways – to reduce traffic noise, in an experiment that has, so far, hardly scratched the…
This idea is not new  but if implemented would use great amounts of our waste tyres.
Waste car tyre may be a problem of the future?
It could be possible that the waste car tyres  problem is resolved in our lifetimes, (I hope). I reported that waste tyre crumbs were being mixed with tarmac to improve the noise levels of the road surface as well as helping with general waste tyres problem.
Now we have some good news coming out of a European Union funded project called "PERSUADE". The project kicked off in September 2009, and looks to me as though it is a different of substance to the mixture of tarmac with the rubber crumbs.
The new type of material that is made from waste car tyres is being tested for its compatibility with other road surfaces such as tarmac and concrete, in a bid to reduce road noise. The new type of road material was invented in Sweden as far back as the 1970's and is made of waste car tyres, that are shredded into granules, which are then covered with a synthetic resin, this is then mixed with stone chippings and chemicals that help the final product give a suitable grip to the traffic that drive on the surface.
The difference between this and normal tarmac as we know it ,is the fact that the mix does not contain bitumen, the Bitumen Products as we know comes from oil and oil waste and is not environmentally friendly more reading… eurobitume.eu
Persuade were given a budget of 4.5 Million Euros
Of course ,which includes many different countries and work by several universities. So, as well as companies with similar interests to the project.
I must admit that this project came as a surprise to me. Surprisingly, I did not realise that such projects were in operation. I have to admit that I am pleasantly surprised! Of course, that one day the tyre industry will not have to pay for tyre removal . Meaning that old tyres will be of good use.
After several test tracks. Consequently, a full scale one was built in three EU countries Poland, Belgium and Sweden. These were built with an up to date mixture of the waste car tyres and other ingredients.
This was in 2014! So, up to now  has proved successful with favorable road noise results, but the trials will be ongoing and take into account the winter performance, skid resistance, durability and of course the road noise.
I know that other people in the tyre industry will be very pleased and even excited about these events, and I hope that the news will be as pleasing to them as it was to me, for more information about persuade… http://persuade.fehrl.org/
As an update i have found out that the rubber and asphalt mix is approved and used in Canada .
https://www.pellonautocentre.com/wp-content/uploads/2020/12/first-waste-tyres.jpg
431
648
Eric Roberts
https://www.pellonautocentre.com/wp-content/uploads/2021/05/Logo_Pellon.fw_.png
Eric Roberts
2023-05-28 07:39:02
2023-09-27 11:05:26
Waste car Tyres are being looked at by the EU Investigating Covering Roads With … Car Tyre Rubber