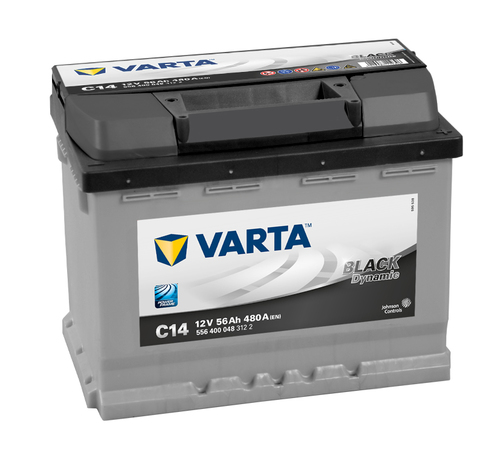 VARTA BLACK dynamic c14 Car Batteries with entry levels of electrical equipment may need less battery power, but they still demand superior starting, consistent performance and absolute reliability. And that's exactly what you get with …
eric roberts's insight:

Varta batteries have always been outstanding quality .
We at batteriesontheweb.co.uk are VARTA BLACK stockists for the West Yorkshire area of the UK, and can offer a full range of car and motorcycle batteries to fit most cars, here in the UK.
VARTA BLACK batteries as we all probably know by now, are owned by the world's largest battery company Johnson Controls. Johnsons have always maintained that the Varta brand is their premier brand and so it came as no surprise when they announced that the new generation of Start-Stop batteries will be made as the top brand.
It is expected that by 2018 the majority of new vehicles will be using Star-Stop technology and so Johnson Controls have devised a dealer service programme to train the technicians at the fitting depots how to use their newly developed hand held electrical equipment to tell the on-board computer that they are fitting a new battery. The new style AGM batteries are part of the total computer system of the all-electric cars that are also charged by the braking system of the cars. The cars that are fitted with the Start-Stop battery system, but run with a conventional petrol/diesel engine can have the battery changed in much the normal way as fitting a  standard 12volt Car Battery.
The Varta batteries will be built in the companies Factory in Zwickau, Germany in a new million Euro plant that is the world's largest producers of AGM batteries. The AGM batteries, (Absorbed Glass Matting) are a much more powerful battery, and will stand larger surges in deeper cycles and so are more suitable for constant Stop-Starting. The new extension to the factory is expected to produce 6.5 million batteries a year and this will double the number of employees at the factory.
11332-Varta News March 08


We offer a next working day delivery and we can ensure an excellent no fuss delivery with our excellent packing methods, and with great care from our carriers we can insure a smooth delivery in 99% of cases.
Thanks Eric Roberts…www.batteriesontheweb.co.uk
See on www.batteriesonline.co.za
Please note these are the words and opinion of the author (Eric Roberts) only. Neither the author nor the website can be held responsible for any errors or omissions. You should seek professional assistance if in doubt about your choice of battery. The article may contain a link to Batteriesontheweb where you can buy battery products online.
https://www.pellonautocentre.com/wp-content/uploads/2015/06/Logo_PellonCleanTrans.png
0
0
Eric
https://www.pellonautocentre.com/wp-content/uploads/2015/06/Logo_PellonCleanTrans.png
Eric
2017-11-22 17:59:20
2018-12-31 14:23:05
VARTA BLACK dynamic C14 Car batteries-BatteriesOnTheWeb-Motorcycle ...