Popular General Grabber Tyres
Popular General Grabber Tyres history prior to Continental tyres.
General tyres have always been part of the British and American tyre market. They are now part of the Continental tyre group based in Germany, but for many years they held their own in the Worlds tyre market. They originated in Akron by two businessmen W.F.O Neil and W.E.Fouse.
By the time that General tyres were making tyres in 1915. There were more than 300 other companies making tyres. Hence, this was due to the massive increase in road traffic volumes in both Europe and America. Consequently, things were moving at a rapid rate. For this reason, by the early 1920 s and 30 s people were starting to race cars in competitions. Therefore, tyre development started running ahead. General tyres were no different. Because they then decided to make premium replacement tyres. Hence, for the after car market. The first ones from General tyres were bias belted car ones. These tyres became imported into Britain.
General tyres were a very innovative company inventing carbon black latex and oil extended rubber.  They secured orders from all the leading truck companies for their great truck tyres.
Popular General Grabber Tyres
The tyres were very modern, and at the outbreak of World War 2, General tyres secured contracts to supply Popular General Grabber Tyres to vehicle manufacturers as original equipment. General tyres became a much sought after business, and it was no surprise that the tyre section of the firm was bought by the German tyre giant Continental tyres. This acquisition took part in 1987 and made Continental the fourth largest tyre company in the World.
 One of the main reasons is value for money. My customers tell me that the performance of the two tyre makers is very similar, but the Popular General Grabber Tyres are now a cheaper tyre to buy and so are proving more popular here at the end of 2014.

General Grabber UHP Tyres Available in Halifax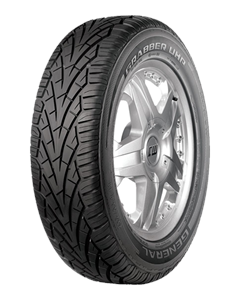 Grabber UHP
The star of the Grabber family was developed for fast and strong-horsepower SUV/4×4 vehicles. With rim sizes up to 24 inches and at speeds of up to 270 km/h. of course, this tyre not only looks good. So, it also provides a top performance in the large SUV car market! With its highly developed tread and the very good quality. Of course, this tyre offers safe handling in on- and light off-road terrain.
New SUV,s are getting larger. As an illustration, we include the new Jaguar SUV F-Pace car range. So, other brands include the Porsche and BMW large SUV,s now on our roads, The list goes on and on, all wanting the larger tyre range for winter protection and safety. So, "Get into the Grabber World" !
The guarantee for safe performance.
The new tread pattern is characterised by steep, extended grooves from shoulder to centre and siped sturdy tread lugs. The design, in combination with advanced silica tread compounds and a reinforced construction. Making the UHP tyre comfortable, durable and extremely safe. Finally, in both wet and dry driving conditions.
most people have heard of the General Grabber range of tyres. Available online at

 www.pellontyres.co.uk 
Eric Roberts
https://www.pellonautocentre.com/wp-content/uploads/2017/01/1-winter-tyres-driving-in-snow-xlarge_trans_NvBQzQNjv4BqrWYeUU_H0zBKyvljOo6zlkYMapKPjdhyLnv9ax6_too-e1563516447317.jpg
400
640
Eric
https://www.pellonautocentre.com/wp-content/uploads/2015/06/Logo_PellonCleanTrans.png
Eric
2020-01-13 04:20:15
2020-01-13 04:20:15
Popular General Grabber Tyres- The ever popular Grabber and the AT Tyres for SUV winters.