MOT Testing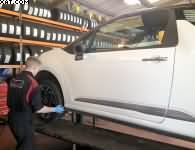 MOT Testing

Don't be a victim of #car service ##mot test#myths! Take control & understand exactly what your vehicle may call for: http://t.co/Ohj6bdZXuX
eric roberts's insight:
When do you have your car service? mot testing
Many of the customers who come to my garage. For their car serviced. Choose one method and that is to have their car serviced. Of course, when it is presented to us for the annual MOT test.
This is the option that many motorists prefer. The reason is that the cost of having any repairs carried out. Hence, if the car fails the MOT test. Servicing means that their car should be road worthy. At least for another year and all the costs come on a one time basis.
Some drivers will have their MOT test carried out and spend their money on the repair work only to find that other problems occur later on in the year. One problem that seems to manifest itself over and over again is the brakes. On an MOT test the brakes are tested on a rolling road and are gauged on their road worthiness by the efficiency reading of the brake tester. The problem is that this does not include a visual inspection of the drums and discs and a car may pass the test but only have a few months wear left on the pads and shoes.
mot test sign Many of our customers have then to pay more money out later on in the year when their brake shoes or pads wear down to the metal and often cause damage to the discs at the same time. I think that eventually we will be able to remove the wheels to give a better visual report on the condition of the whole braking system.
MOT Testing
This is why many of our customers will opt for a service.At the same time as their MOT test. It gets everything out of the way .Making for a much safer car and a better maintained car. Some drivers will rely on the service manual that came with their car for servicing  and when the car has been serviced we stamp their service manual to show that the car has had a full service history carried out for when they sell their car on.
The worse ones are the ones that do not have a service at all, that is until something goes drastically wrong. These are the ones who swear blind that they had the car serviced earlier on in the year, but when we check our computer it was indeed two years ago. You can tell the ones, their brakes start grinding and their car won't pull properly, because the engine has no oil in it, or the filter is completely blocked with age, this is a special problem with diesel engine cars and is a different story.
In the long run people who do not service their cars have to pay out more because they usually have more damage done to the car caused by not having a service.
Eric Roberts
Hi I would like to introduce myself. I have worked in the Garage and tyre and Battery business now for 40 years. Working for a couple of national tyre companies before starting my first business. Now owning a company here in the UK called Pellon Tyre and Auto-centre. Blogging about anything to do with cars. Including,their related products that will help my business. Members of Point-S and MotorCodes and are also a Unipart Car Care Centre.
https://www.pellonautocentre.com/wp-content/uploads/2015/06/Logo_PellonCleanTrans.png
0
0
Eric
https://www.pellonautocentre.com/wp-content/uploads/2015/06/Logo_PellonCleanTrans.png
Eric
2019-08-05 05:19:44
2019-08-05 05:19:44
MOT Testing-Testing time should be The Right Time to Service Your Car | Nationwide Insurance