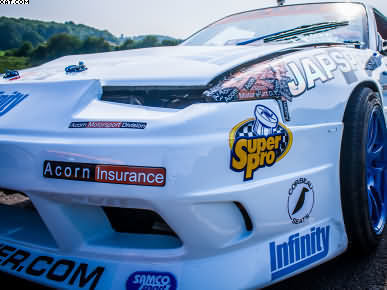 Infinity Tyres Receives UK TAFF Award

Tire Review

"On behalf of everyone at Infinity Tyres, we are delighted and honored to receive this award," said Harjeev Kandhari, executive director of the global Al Dobowi Group.
Eric Roberts's insight:
Infinity tyres trying to become a mid-range tyre?
Of course,Infinity tyres are definitely going places. Following in the footsteps of other mid-range tyre companies. Such as Kumho and Hankook by taking part in motorsports events. In my opinion the Infinity Tyres product is a good tyre. But they are still sold as a cheap tyre. In other words a budget tyre.
Tyre companies historically would own a second brand. So that would be sold as budget tyre. Subsequently, with the advent of the Eastern tyre companies from China
and South Korea. The competition has become tougher for the main tyre brands and names such as Kumho and Hankook are coming to the forefront due to money spent on promotions and the backing of motorsport to promote there tyres, which is now paying off and companies such as Infinity tyres are improving their products and are pushing the big tyre companies for market share.
We are Infinity tyre dealers in the Halifax area of the UK
Indeed Infinity tyres are an excellent product. This tyre brand are imported into the UK by Bond International. Of course, who have done a great marketing job at promoting the Infinity product.
Written by Eric Roberts… member of Point-S
Eric Roberts
Hi I would like to introduce myself. Working in the Garage and tyre and Battery business now for 40 years. Including having worked for a couple for national tyre companies in my younger days. Of course, before starting my first business.Now owning a garage and MOT testing centre, here in the UK . Called Pellon Tyre and Auto-centre. A keen blogger about anything to do with cars and their related products. Consequently, that will help my business. We are members of Point-S and Trading Standards.Finally we are also a Unipart Car Care Centre and of course Tyre-safe.
Eric Roberts
https://www.pellonautocentre.com/wp-content/uploads/2018/04/tsi_tyre_labelling_feature_grid_665.jpg
788
1263
Eric
https://www.pellonautocentre.com/wp-content/uploads/2015/06/Logo_PellonCleanTrans.png
Eric
2019-06-14 05:20:45
2019-06-14 06:02:39
Infinity Tyres-Receives UK TAFF Award - Tire Review