EfficientGrip tyres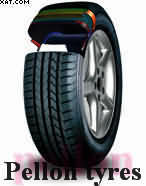 EfficientGrip Tyres
The fuel-saving tyre that keeps performing for longer.
Fuel-saving and environmentally friendly,
Long lasting better braking on wet roads,
Quiet, comfortable ride
Designed as a new environmentally friendlier tyre the
Goodyear
EfficientGrip provides driving performance while reducing fuel consumption.
The EfficientGrip has the great handling and braking qualities you'd expect from a Goodyear tyre – with its Fuel-saving technology and outstanding rolling resistance (13% better) the Goodyear EfficientGrip provides excellent mileage and reduced fuel consumption.
New Grip tyres from Goodyear gain strong label grades and test ratings Etyres Leading German car magazines Auto Zeitung and AD AC Motowelt firmly placed Goodyear's EfficientGrip tyres Performance in second place, recognising the tyre's all-round…
Eric Roberts's insight:
Goodyear EfficientGrip one of the best
Comparatively, this tyre is undoubtedly one of tyre companies best products. Of course, since the Aquatred tyre  took the tyre world by storm ! Including, the Goodyear NCT 5 tyres.
The tyre has come very close to winning top tyre magazines awards. Scoring, very highly on the new tyre labeling system. Significantly, this new tyre is a very good selling tyre for us at Pellon tyres here in Halifax, West Yorkshire in the UK.
Anciently, years ago now, I was fortunate to work for a Goodyear subsidiary, Tyreservices. Consequently, in the late seventies and eighties. Of course, before starting my own tyre company. The Goodyear experience, was fantastic. Because.
I was able to learn enough from Goodyear to be confident about opening my own tyre business. Significantly, and have never looked back. Of course, making Goodyear one of my favorite companies in the tyre World. They have an excellent tyre range including now the EfficientGrip tyres.
Eric Roberts
Hi I would like to introduce myself. I have worked in the Garage and tyre and Battery business now for 40 years. So, I have worked for a couple for national tyre companies in my younger days. Naturally, before starting my first business. Now own a company here in the UK called Pellon Tyre and Auto-centre. A keen blogger about anything to do with cars and their related products that will help my business. Members of Point-S and Motor-Codes and are also a Unipart Car Care Centre and of course Tyre-safe.
https://www.pellonautocentre.com/wp-content/uploads/2015/06/Logo_PellonCleanTrans.png
0
0
Eric
https://www.pellonautocentre.com/wp-content/uploads/2015/06/Logo_PellonCleanTrans.png
Eric
2019-03-13 04:19:56
2019-03-08 11:10:04
EfficientGrip tyres-from Goodyear gain strong label grades and test ratings - Etyres