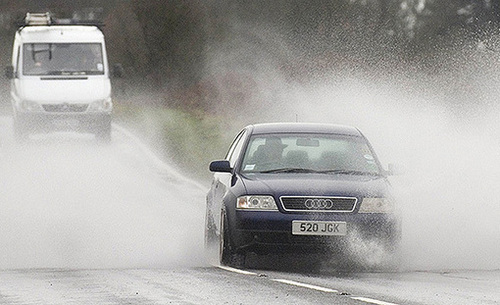 Car Tips-With the UK set for a deluge, here's how to drive safely with floods around (Tips for driving in floods

http://t.co/LrOrGkF0Eh

)
eric roberts's insight:
Car Tips-Stay away from driving your car in the floods
This is a very topical article by MSN cars, due to the bad weather and Driving in floods that have occurred in the South of England and Wales. Fortunately we have missed the worse of the storms here in Yorkshire, where I live and work.
I must say, though it does remind me of a trip that I made to deliver a 12 Volt Battery to a remote farm in North Yorkshire. I had to go because our carriers at the time would not deliver the battery to this area. The sat/nav was switched on and off I went in my Peugeot partner van .
The day was a nice bright winters day, but the day before we had a massive storm similar to  Driving in floods that were hitting the South of England at the moment. I started to get nearer to my destination and the roads were getting steeper and narrower, similar to a roller coaster ride. I went down a steep hill that went through a forest and round a steep end, where to my shock horror; there was a ford across a river. The river was flowing very fast and at first I did not know what to do as i had not seen any Flood Warnings.
It would have been very difficult to turn round as the road was very narrow, so I decided to go for it. I revved my diesel van and shot across as fast as I could. To my horror the river started to push my van sideways but I just managed to make it to the other side driving as fast i dared. My first thoughts were to try out my brake and luckily everything worked OK. I know how scared I was and so when I see those poor drivers that do not make it to the other side, well it makes me cringe.
I will never attempt to cross another flooded river or road again and when I read the comments in this article I noticed that most of the comments say that the best way is not to try and cross any flooded roads at all, which would also be my advice. I also noticed that some drivers were getting stuck in the larger 4×4 vehicles, please stay away and do not attempt to Driving in floods at any cost.
Eric Roberts
Hi I would like to introduce myself. I have worked in the Garage and tyre and Battery business now for 40 years. I worked for a couple of national tyre companies before starting my first business. I now own a company here in the UK called Pellon Tyre and Auto-centre, and I am a keen blogger about anything to do with cars and their related products that will help my business.
See on cars.uk.msn.com
https://www.pellonautocentre.com/wp-content/uploads/2015/06/Logo_PellonCleanTrans.png
0
0
Eric
https://www.pellonautocentre.com/wp-content/uploads/2015/06/Logo_PellonCleanTrans.png
Eric
2017-12-04 17:59:03
2019-01-01 11:45:07
Driving in floods is something that you should avoid (or not)