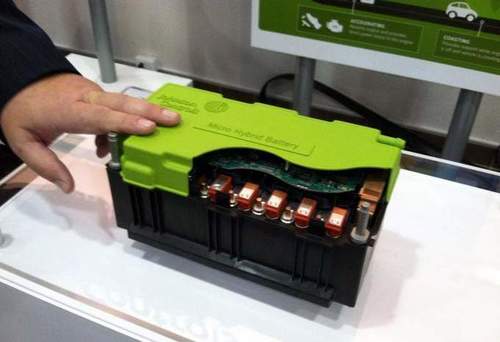 Post updated  15/2/2014

Daily Tech Johnson Controls smaller battery pack may jolt auto industry The Detroit News Plymouth —Global automotive supplier Johnson Controls says it has reduced a micro-hybrid battery pack from the size of a car trunk to the size of a shoebox,…

Johnson controls are a leading battery pack company

This is yet another major step that Johnson controls are involved in, a realistic sized Lithium Ion Battery Pack.

One of the new range of Lithium Ion Rechargeable Battery will be used to power a boat outboard motors and electric motors made by Torqeedo a German boat manufacturer who will use these  new  Leisure Batteries, (that will be made in Johnson controls Holland plant). The new marine batteries are to made from a

modified version of its plug in Hybrid electric vehicle battery, that will be waterproof and will not be effected by the salt water on marine boats.

Johnson Controls are one of the largest manufacturers of 12 v lead acid batteries in the world and are now getting involved in making batteries from the new technology era that we are getting into. Some of the new types of batteries are creating some problems at the moment for the scientists to find answers to.This includes overheating and the length of time that these batteries will last on one charge, but i am sure that answers are imminent in the near future.

Eric Roberts

Hi I would like to introduce myself. I have worked in the Garage and tyre and Battery business now for 40 years. I have worked for a couple for national tyre companies in my younger days, before starting my first business. I now own a company here in the UK called Pellon Tyre and Auto-centre, and I am a keen blogger about anything to do with cars and their related products that will help my business. We are members of Point-S and Motor-Codes and are also a Unipart Car Care Centre and of course Tyre-safe.
See on

www.detroitnews.com
https://www.pellonautocentre.com/wp-content/uploads/2015/06/Logo_PellonCleanTrans.png
0
0
Eric
https://www.pellonautocentre.com/wp-content/uploads/2015/06/Logo_PellonCleanTrans.png
Eric
2013-11-09 17:53:10
2015-12-24 07:40:55
Johnson Controls-To make Smaller battery pack which may jolt auto industry - The Detroit News