Bridgestone Tyres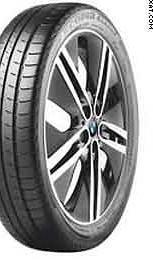 BMW Group announced partnership with Bridgestone tyres, in which one of the world's largest tire manufacturer has been selected to develop a range of tyres for the BMW i3 electric car.
eric roberts's insight:
New bridgestone Tyres Sizes for BMW i3 Electric Car
Japanese and Worldwide tyre company Bridgestone tyres have teamed up with BMW, the German car maker, to create a new type of tyre which will give an excellent rolling resistance and aerodynamic performance for use on the new i3 electric cars that BMW are producing. The tyres from Bridgestone Tyres will be as the Ecopia EP500 Ologic tyre, and will be available in 4 completely new tyre sizes.
This is a completely different concept to the tyres that have been developed over the past say ten years, which were fatter (more width) and smaller in 15 inch sizes and then 16 and 17 inch sizes, up to what we have today In 18/19 and 20 inch sizes, all of coarse with corresponding  aspect ratios. The aspect ratio is the height of the tyres as a percentage of the width, if the tyre has an aspect ratio of 60, then the tyres height is 60% of the width, the smaller the aspect ratio the wider the tyre will be in relation to the height of the tyre.
Bridgestone Tyres-new sizes
The new sizes will be mind blowing to us in the tyre sector, because they go against all that we have previously seen as far as tyre technology has gone. Bridgestone Car Tyres are even claiming the new tyres are even good in the winter weather and in fact will be making some of them in the Blizzak type winter pattern.
This will be a modern version of going back in time, when older guys like myself used to fit tyres with sizes such 155×16, 185×15, 175×16 and many more with a narrow tread and
tall sidewall, the new Bridgestone EU tyre sizes will be 155/70×19, 175/60×19, 155/60×20 and 175/55×20. The tyre's long contact patch (relative to its narrow width), revolutionary tread design and compound still ensure outstanding grip in both wet and dry conditions.
In my opinion this is just another excellent tyre innovation from Bridgestone Tyres and will help to keep all the tyre industry players on their toes and also creates much interest in the new revolution that we are having in the auto trade.
Eric Roberts
See on puregreencars.com
https://www.pellonautocentre.com/wp-content/uploads/2017/08/A-mot-sign-2.png
705
1185
Eric
https://www.pellonautocentre.com/wp-content/uploads/2015/06/Logo_PellonCleanTrans.png
Eric
2019-08-01 05:19:50
2019-08-01 05:19:50
Bridgestone Tyres Reveal BMW i3 Electric car Tyres In New Tyre Sizes